Hosting Solutions – Secure Web Hosting – St Louis MO
Host your website with Access Us! We offer your personal and reliable hosted web servers, without all of the hard work and worry!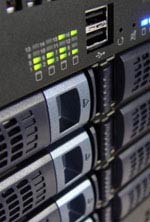 For small business owners, navigating the world of web sites, domain registration, hosting, connectivity and more can be overwhelming. Save yourself the time and effort it takes to manage a dedicated web server by letting our expert staff do it for you.
No matter what kind of site you have or will have in the future, Access US' Professional and Secure Web Hosting Solutions will personally set up your high performance web servers to make sure that your website runs perfectly.
Access US Reliable St Louis Based Web Hosting Solutions
With Access US' 24/7 monitoring, and full-service server hosting solutions, you can rest at night knowing your websites, applications, and email are running as they should on our fully managed, high performance, dedicated, St Louis managed hosting servers.
Access US's collocated & managed Web Hosting Solutions servers sit in a secure $8 million state-of-the-art managed hosting data center (IT colocation facility) located in downtown St. Louis. Our high speed, carrier neutral data centers connect you with fully redundant connections with cages, suites, racks or individually locking cabinets for all levels of security.
Web Hosting Solutions Contact information:
Contact Access US Professional Web Hosting Solutions today to get started hosting with us, or even if you have more questions.
We're happy to help! Call Monday through Friday, 8:30 AM – 5:00 PM CST 314-655-7700
Or email us at sales@accessus.net
Web Hosting St Louis – General Specifications
• 29,000 Square Feet
• 250 Pounds per Square Foot Floor Loading
• 12-Foot Ceilings
• 470-Vehicle Secured, Underground, On-Site Parking
• Four 7,000-Pound Freight Elevators
• One 15,000-Pound Freight Elevator
Web Hosting Solutions StL – Electrical
• 3,000 Amp Utility Service
• Fully Redundant Switch Gear with Maintenance Bypass
• In-Building Utility Substation
• Dedicated Two Megawatt Diesel Back-Up Generator with 3,000 Gallon Fuel Tank
• Redundant Uninterruptible Power Supply Systems (UPS) with Maintenance Bypass
Secure St Louis Web Hosting – Security
• Biometric Hand-Geometry Scanners
• Proximity Card Key Access
• High Resolution Video Surveillance Throughout with 90-Day Archiving
• Full 24-Hour Building and Facility Access
• Secure Storage Available
• Secured Cabinets and Larger Private Cages Available
• Video Intercom
St Louis Web Hosting Solutions – Controls & Monitoring
• On-Site Operations Control Center (NOC-OCC)
• Cross-Mounted Digital and Analog Management Systems and Software
• Complete Remote Access for Monitoring
• Network Monitoring
• Temperature & Humidity Monitoring
• Power Monitoring to the Distributed Circuit Level
• Custom Monitoring Reports Available
Access US Web Hosting Solutions is here to help! Access US is a Saint Louis based company offering a wide range of services nationwide including secure web hosting, custom professional website design, corporate email hosting, search engine optimization and domain name registration / renewal.
Contact Access US for more Secure Web Hosting Solutions Information
We would like to hear from you. Please send us a message by filling out the form below and we will get back with you shortly.
Please note: We do not accept cancellations or change of service requests through our web forms. Please contact Customer Service for any changes to service requests.
Please select a valid form