Internet Connectivity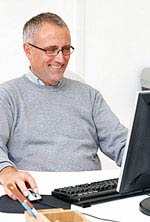 DSLAccess US is a Saint Louis based Internet Service Provider specializing in offering blazing fast nationwide DSL and T1 service
DSL (Digital Subscriber Line) service is an always-on, uninterrupted, high-speed connection to the Internet. DSL by Access US uses existing phone lines and delivers speeds up to 6 Mbps*. With DSL there is no need to buy an additional phone line, because Access US takes care of it all for you! Now anyone can affordability replace their dial-up connection and connect their home or office over a single DSL line.
Whether you are a residential user or an established business looking to expand into the Internet or a budding entrepreneur, Access US has the perfect DSL offering for you. DSL services are designed to be flexible, allowing you to add a web site, increase the number of simultaneous users, or expand your e-commerce capabilities as your business grows.
*Due to limitations inherent with DSL technology, not all services are available in all areas. Sorry, we don't like it either.
Need more information about Access US' DSL services?
T1
Our network allows us to handle any need locally or globally. Full T-1's at 1.544 Mbps allow your company to receive and respond to immense volumes of information at incredible speed. Frame Relay, a non-mileage sensitive product, offers a cost-reduced option. We will also offer advice and consulting on hardware and software options. The Access US solutions are fully scalable to increase and decrease services, as you so require.
How T-1 and frame-relay services can serve you
Technology teams with competitive pricing for value-added service.
Large enough to accommodate entire corporations, even other ISP's.
Fractional options at 256 kbps through full T-1, perfect solution for growing businesses.
Burstable options at 256 kbps through T-1, ideal for variable traffic demands.
Access to the Internet via multiple, redundant Internet connections.
Added efficiency through test marketing capabilities, telecommuting, improved customer service.
Emergency back-up solutions.
Need more information about Access US' T-1 and frame-relay services?
Bonded T1 (DS1)
A bonded T1 (also called DS1) is two or more T1s that have been joined (bonded) together to increase bandwidth. A full T1 provides approximately 1.5Mbps or 24 individual channels each of which supports 64Kbit per second, where two bonded T1s provide 3Mbps or 46 channels. Two bonded T1s allow you to use the full bandwidth of 3Mbps where two individual T1s can still only use a maximum of 1.5Mbps at one time. To be bonded the T1 must run into the same router at the end, meaning they must run to the same ISP. Bonded T1s can use MPPP.
Need more information about Access US' Bonded T1 services?
Dial-Up
Many people still use a dial-up connection as a back-up for their high-speed Internet connection, and many others still use dial-up if there are no better options yet available in an area. We have dial-up services available, in most areas of the United States. If you need to connect, and all you have is an active phone line, we can get you connected and surfing in minutes. Give us a call!