Managed Hosting Solutions – St Louis MO.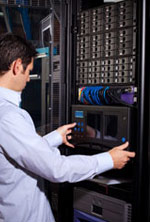 Access US is a premier provider of full-service St Louis Managed Hosting Solutions for organizations that demand 100% uptime.
Since 1995 Access US has been an industry leader in providing the network infrastructure, security, expertise and customer-centric support required by clients that rely on their websites and web-based applications for day-to-day operations, communicate with customers, and generate revenue.
Access US St Louis Managed Hosting Solutions frees you from the worry, hassle, and expense of administering your own server, and gives you the confidence that your managed hosting will perform the way it should.
St Louis Managed Hosting Solutions and Server management are two of our primary responsibilities, so Access US system administrators can be responsible for installing, maintaining, and upgrading your managed servers to ensure maximum reliability. Our U.S.-based Managed Hosting Solutions support team and managed hosting experts are also responsible for ensuring that your servers are backed up, and that the server data is secure from fire, corruption, or unauthorized access.
Let Access US Manage Your Servers
You can rely on Access US St Louis Managed Hosting Solutions to manage your servers, so you can focus on bringing in new business. We'll take care of your day-to-day server maintenance tasks like patching, troubleshooting, monitoring, backups, and more. We take the pain out of managing your own dedicated servers or web servers.
Access US has one mission – to deliver the very best managed hosting solutions possible. To help us achieve this goal, we work with each of our clients to understand their hosting needs, and then create the best managed hosting solution for their individual needs. We understand that you want to focus on your core business, rather than worry about infrastructure, so we will upgrade and maintain all of our managed servers to ensure they are working properly.
Access US St Louis Managed Hosting includes updating and patching the operating system (Windows or Linux) & all core, pre-installed applications (e.g. Apache, MySQL, PHP) and providing support for customers who want to configure new packages & tools themselves.
Glossary Of Managed Hosting & Cloud Hosting Terms
Click here to read through our glossary of hosting terms.
Contact Access US For More St Louis Managed Hosting Solutions Information:
We would like to hear from you. Please send us a message by filling out the form below, or call our Managed Hosting techs today at 314-655-7700 to get started, or if you have more questions. We're happy to help.
Please note: We do not accept cancellations or change of service requests through our web forms. Please contact Customer Service for any changes to service requests.
Please select a valid form